Junior Center of Art and Science Visual Arts Classes, Fridays 4pm-6pm starting in the Fall
Ages 9-13.
Elisabeth will be back at the JCC East Bay teaching K-5 art and jewelry classes in the Fall 2014 Chugim (Class) Session. See class descriptions below.
She is also available for private art lessons and Oakland School for the Arts portfolio preparation.
For More Info Contact: erdonley@gmail.com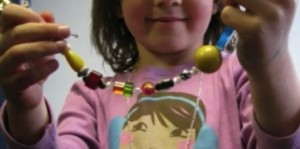 Jewelry Making
JCC East Bay Oakland Site
Tuesdays, 3:45-4:30
$135-$150
For veteran jewelry makers who remember beading with Liz or for those who are just beginning, this class is for you! Using a huge selection of beads, found art jewelry, and hand-made beads, we will be exploring our own jewelry designs. Everyday we will learn about a new technique or design element, and have most of the class for individual project exploration and idea implementation. Over the course of the Winter Chugim session we will learn how to use needle-nose pliers, wire clippers, and crimp beads in cold metal manipulation. This class celebrates making beautiful things, learning how to put colors and shapes together artfully for a personal sense of pride, and giving these treasures to loved ones.
Messy Art
JCC East Bay Oakland Site
Thursdays, 3:45-4:30
$135-$150
Do you live for color? Do you love to play with paint? This class is for all things painting! Students will be introduced to a variety of mediums and a wide array of techniques to paint and print abstract and realistic images. Each class will introduce a new technique or medium through a fun art project. Over the course of the session we will be mono-printing, lino-woodcut printing, ink and watercolor painting, and we will explore the concepts of color choice, values (dark and light), line quality, and composition. Students will also learn about color mixing, translucency, and texture. The final project will be a student driven creation and will combine multiple mediums and techniques. At the end of the class, students will have a whole portfolio of work to take home for keepsakes! This class revels in experimentation; we will be investigating the effects of all kinds of materials and colors and we will use what we've learned to make expressive works of art for our loved ones.